Can I sue my employer for a slip and fall?
23 April 2021
You're probably reading this after the shock of encountering a workplace accident and wondering, "can I sue my employer for a slip and fall?"
The Health and Safety Executive (HSE) reports slips and falls as the single most common cause of work-related accidents in the UK.
They can happen in a wide variety of locations; causes of accidents vary widely.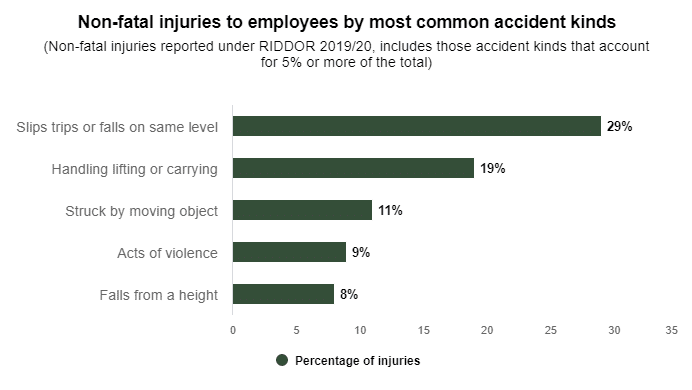 Source: HSE
While they initially may appear harmless, injuries suffered can have adverse and detrimental implications on your future.
Of the 65,538 injuries reported by employers in 2019/20 under RIDDOR (Reporting of Injuries Diseases and Dangerous Occurrence Regulations), 111 of these involved fatalities.
Industries with the highest percentage of fall-related fatalities are:
Agriculture, Forestry & Fishing.
Transport & Storage.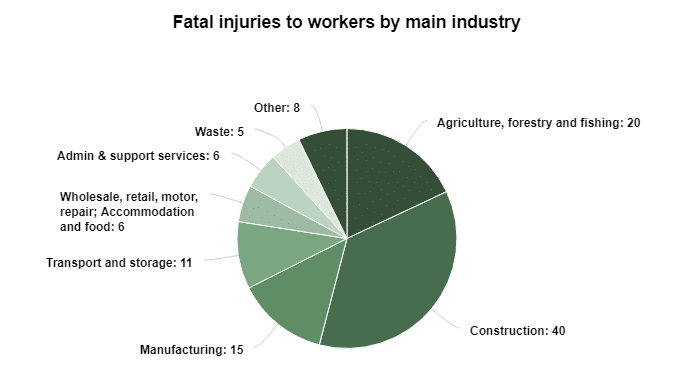 Source: HSE
Accident At Work Claims Advice
If you are injured in a workplace accident directly as a result of your employer's failure to adequately minimise the risk, you may have grounds to sue your employer and receive appropriate compensation.
You could get monetary compensation for:
Therapy, medical bills and out-of-pocket expenses.
Pain and suffering related to the workplace accident and your injuries.
Wages lost during treatment and recovery.
Loss of earning capacity.
Future medical expenses.
Temporary and permanent disability.
Read on to discover more about slip and fall accidents at work and the relevant evidence you would need to provide for the accident.
What are My Employer's Obligations Regarding Reducing the Risk of Slip, Trip and Fall Injuries at Work?
Under Health and Safety at work law, employers should ensure that all work environments are safe and free from any potential hazards, in so far as is possible.
Employers can do this by putting in place reasonable measures to minimise the risk of harm and injury.
These measures apply to work areas both onsite and offsite. They include, for example, putting appropriate signs in areas known to be slippery due to wet surfaces or if there's a spillage.
Liability would fall on your employer in the event that a slip and fall results in an injury due to the negligence of a fellow employee.
To prevent the occurrence of a trip, slip or fall injury, your employer should ensure:
The work environment is kept clean and tidy at all times.
All work areas and walkways are kept clear of any obstacles.
Flooring, carpets and furniture are kept in good condition.
Non-slip treads are installed on stairs.
Drainage systems for wet work processes are maintained.
Where necessary, anti-slip flooring, handrails and guardrails are installed.
All tools, machinery and equipment are in good working order and serviced regularly.
Repairs and maintenance work is carried out as needed.
Hazardous environments are reported immediately and corrected ASAP.
Employees and visitors are provided with, or asked to wear, anti-slip footwear in areas known to be slippery, wet or icy.
Personal protective equipment is provided, as and when needed and stored correctly when not in use.
Work areas have proper lighting and are well lit.
Following all these precautions can make all the difference in averting different kinds of slip and falls.
If a fellow employee did something wrong (like leave a work area slippery or untidy) and the negligence results in a slip and fall, you could potentially file an accident at work claim against your employer.
Under "vicarious liability" law, your employer is responsible for the actions of your fellow employees.
Your employer is legally bound to have liability insurance by an approved insurance provider in place. The policy has to meet the minimum legal requirement of £5 million.
It is the insurance company that will deal with your case and pay any compensation you are awarded.
What Should Be My Next Steps If I Suffer a Fall at Work That Leaves Me Injured?
First things first. If you have suffered a slip and fall accident, get medical attention as soon as possible; it doesn't matter if you believe your injuries are only minor.
Some employees are seriously hurt in slip and fall injuries that are easy to see, like bleeding wounds, broken bones or loss of consciousness. Sometimes, an employee can be seriously injured but the symptoms might take hours or even days to develop. A good example of this is head injuries.
The first person to inform about the incident and injuries is your designated workplace first aid officer. If you are able to do so, make them aware before seeking medical attention from your own GP, any medical provider within the company's network, or the nearest hospital's Accidents and Emergency department.
Don't leave the hospital without a not being made of your injuries and how you got them.
Do the following after seeking medical attention:
Ensure the accident that left you injured was correctly recorded in your workplace's Accident Book. In a workplace with 10 or more employees, it is required by law to have an accident book in the building. Any information recorded in the book should be held onto safely for at least 3 years.
If there's no accident book, write and send your employer a registered letter complete with the details of the accident. Remember to keep a copy for your own records.
If there's CCTV footage of the incident, request a copy from your employer. Take photos of the accident scene while paying special attention to the reason why you slipped and fell.
Snap images of the injuries you suffered.
Obtain a medical report from your GP or hospital that admitted you.
Keep receipts for all medical and out of pocket expenses.
If any of your colleagues witnessed your slip and fall accident, request them to come forward to provide witness statements.
When reporting the accident to your supervisor or manager, include details about the cause of the slip and fall and mention any body parts that were twisted or impacted.
Does My Employer Have a Duty of Care Towards Me in the Workplace?
The government has in place several Health and Safety regulations to protect you while at work.
Your employer and fellow employees should respect all the safety regulations in the workplace, failure to do so could lead to a claim for compensation if you subsequently fall and injure yourself.
Your employer is duty-bound ensure that:
All employees are sufficiently trained and ongoing training is conducted routinely.
Employees are well aware of good practices and working procedures in the workplace.
Enough industry-standard personal protective equipment(PPE) is readily available when needed.
Tools, machinery and equipment are in good working order and correctly maintained.
Regular risk assessmentsare performed to ensure that hazards are identified.
Can I Sue My Employer for a Fall Injury Caused by a Fellow Employee?
Your rights at work entitle you to seek compensation from your employer for slip and fall injuries sustained as a result of negligence from a fellow worker.
Losing your job or not being able to perform your duties means a significant loss of income, especially if the injury takes a long time to heal.
Your employer has no right to bar you from reporting the injury or seeking the required medical attention.
Confused about whether you should proceed with a claim against your employer? Contact one of our expert personal injury lawyers today.
How Do I File a Fall at Work Injury Claim Against My Employer?
Gather as much evidence as you can to help to support and prove your case against your employer.
The following documents will help strengthen your case:
Workplace accident book records or a copy of a registered letter you sent to your employer.
Witness statements and contact details.
Records of medical treatment.
A copy of the CCTV footage of the incident.
Photos of the injuries suffered.
Photos of the hazardous environment.
Don't accept the first offer you receive. Insurers are in business and they will aim at offering the lowest amount. Seek legal advice from a qualified accident at work solicitor to ensure that a fairer amount is offered.
What Should I Include in a Fall At Work Injury Claim?
In your accident at work claim against your employer, you can claim both losses and damages.
The losses you incurred, such as loss of earnings, as a direct consequence of your work injuries would fall under "special damages" and the damages you would be awarded for the pain and suffering you experienced as a result of your injury would fall under "general damages."
Let's take a closer look at the 2:
General damages compensate an injured party for their pain, suffering, distress and any loss of amenity the injured party had to cope with due to the error or negligence which occurred.
Special damages compensate all the out of pocket expenses the injured party incurs as a result of their injuries. Special damages can include care costs, travel and medical expenses.
Since they're based on actual expenditure, special damages are easier to settle. As such, you would be required to provide receipts for all the costs and expenses you incurred.
Could I Be Fired for Filing a Fall Injury Caused By Fellow Employee Claim?
Your employer will be in breach of the law if they fire you for seeking compensation for the pain, suffering and out of pocket costs you had to cope with due to the error or negligence of your employer or another employee.
Contact an employment law specialist if you're intimidated, threatened or treated unfairly by your employer as a result of you filing an accident at work claim. Because they acted unlawfully, it could entitle you to seek further compensation.
What's the Time Limit to File a Fall Injury Claim Caused By Your Employer or Another Worker?
The time limit for filing for compensation for a work injury depends on your age and the circumstances of the incident.
You have 3 years from the date you suffered an injury at your workplace to lodge an accident at work claim.
If the incident happened before you hit 18 years, the 3-year limit would begin from the date you turn 18.
If you develop a health complication that your GP links to the workplace injury, the date of the official diagnosis would be the start of the 3-year deadline.
Failing to file your injury claim within these timeframes will lead to a case dismissal, as the time limit has been reached.
Would My Fall Injury Claim Caused By my Employer or a Fellow Employee Be Successful?
Proving liability can be challenging, which sometimes makes work-related injury claims complex.
For your claim to be valid, you have to meet specific legal requirements. This holds even if your employer accepts responsibility.
Whether liability is denied or accepted, accident at work solicitors have the required legal know-how to handle such cases.
Because of the 3 year deadline, it's advisable you seek legal advice ASAP. With legal representation, you can avoid pitfalls associated with personal injury cases and stand a better chance of winning your case.
What Benefits Would a Solicitor Offer If I File a Fall Injury at Work Claim?
On contacting an accident at work solicitor, your claim and evidence against your employer would be assessed to determine if you have a case. Based on the assessment, the solicitor will advise you on how to proceed.
Other benefits of having legal representation include:
If an accident at work solicitor agrees to represent you, they are also likely to offer "No Win No Fee" terms, which means you don't have to worry about ongoing costly legal fees until you win.
Solicitors can refer to their expert knowledge, and case law, upon which they can base your injury at work case and compensation amount.
A solicitor would ensure that you are accorded the necessary medical examination by an independent doctor and get a comprehensive report which would be used to calculate the amount of compensation you could be awarded.
A solicitor who represents you would let you know of the amount you could receive.
If your injuries resulted in ongoing treatment or therapy, a solicitor would aim to agree interim payments to protect you from suffering financially until a settlement is reached.
Helpful Links
Were you injured at work and aren't sure if your employer implemented the correct safety measures? Health and Safety in the workplace provides important insights on Health and Safety regulations that need to be followed. However, it is much easier to contact one of our Personal Injury experts who will be able to tell you quickly if you have a potential claim.
Maybe you want to learn more about conditional fee agreements. Please familiarise yourself with No Win No Fee Agreements and what they entail.
Open this link to reportable workplace accidents, incidents, injuries and diseases to learn more about work-related health issues.
Contact Us
Have you suffered a serious slip, trip or fall injury at work?
Call Redkite Solicitors today to schedule your initial consultation and discuss your legal options.
We pride ourselves on helping slip and fall victims obtain the compensation they are entitled to.
We will walk you through every step of the legal process and keep you updated on all progress being made.
There are usually no upfront charges; you only pay us if we recover money in your case.