In-house Counsel joins Redkite Solicitors Personal Injury Team
25 May 2023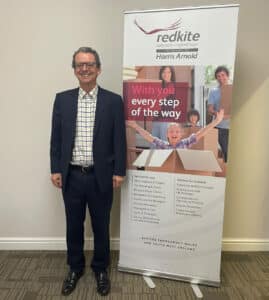 Redkite Solicitors has strengthened its award-winning personal injury team with the appointment of Bryan Thomas, who joins as in-house Counsel.
Bryan, who was previously a senior barrister at Civitas Chambers in Cardiff, will be working exclusively with Redkite's personal injury department. His appointment presents a unique opportunity for both the team and Redkite Solicitors as a whole as there are very few other Personal Injury Teams nationally that offer such an exclusive service.
Bryan has been one of Wales leading personal injury barristers for many years and is recognised as a Chambers UK Bar Guide and a Legal 500 Tier 1 specialist in both personal injury and clinical negligence.
Having spent much of his career working with very complex and high value cases, Bryan brings an additional layer to the Redkite team who have gone from strength-to-strength in recent years.
Having previously been named Personal Injury Team of the Year at the Wales Legal Awards in both 2020 and 2021, the Redkite team have an exceptional reputation both locally and nationally.
Bryan Thomas explained his decision to join Redkite Solicitors;
"I am delighted to be joining the personal injury team at Redkite Solicitors. I was approached by a number of firms, but Redkite's dynamic personal injury team provide a first-class service to their clients, so it was an easy decision for me. They are efficient, knowledgeable and approachable and have demonstrated the ability to recover the maximum compensation for their clients"
"My role in Redkite will bring an even greater level of expertise to the team and their clients and I look forward to working closely with the team.
Sophie Jenkins, Partner and Head of the Personal Injury Team at Redkite Solicitors added;
"Bryan joining Redkite presents an incredible opportunity for the team, and our clients. Bryan is an outstanding barrister, and we are lucky to have secured him in-house. The experience and knowledge he brings with him really strengthens our offering and we are excited to be able to offer our clients this first-class service which is unparalled".
The Redkite personal injury team have secured millions of pounds worth of compensation for their clients in recent years, including securing a lump sum settlement in excess of 14 million pounds for one client.