Redkite Vacancies in Wales and England
Join one of our Gloucestershire or Herefordshire offices on the charming high street of a picturesque English town, in a part of the country that is regularly listed among the best places to live in England, and you will find the perfect blend of a fulfilling and interesting career, and a relaxing lifestyle, away from the hustle and bustle of urban life.
Redkite stands out among high street firms because it offers the infrastructure and specialisms of a larger organisation, ensuring our fee earners enjoy access to top-quality work and support, while maintaining the personalised client contact that makes our profession meaningful and rewarding.
Our teams are made up of enthusiastic individuals, each bringing their own character and skills, who enjoy what they do but who also want a good work/life balance. In every area of our business, you will find progressive and commercially minded people thriving in an innovative, professional, and enjoyable work environment, including options for working flexibly and remotely.
We can offer you:
Quality work from good clients: Enjoy engaging tasks from a varied and loyal clientele.
Infrastructure of a larger firm: Benefit from the resources and support network of a larger firm, ensuring a collaborative and enriching work environment without losing the client contact and relationship building.
Live in areas with excellent amenities that you have time to enjoy: Experience genuine work life balance in areas with good schools and convenient access to charming town centres for enjoyable lunch breaks and a life outside work.
Minimal commute: Embrace the convenience of a shorter commute, particularly appealing for those joining us from London and other urban centres. Most of our roles also offer options for remote and / or flexible working.
Genuine commitment to work life balance: At Redkite, we value a good work-life balance without compromising on the quality of work and opportunities for career development.
Whatever your level of experience, there can be a rewarding role for you at Redkite Solicitors, whether you're a professional with many years of experience, newly qualified, a trainee, a recent graduate or thinking about an apprenticeship, we offer unrivalled opportunities for career growth and personal development.
So please get in touch, we'd love to hear from you. Join us in Gloucestershire or Herefordshire, where a fulfilling career meets a great lifestyle.
Why Join us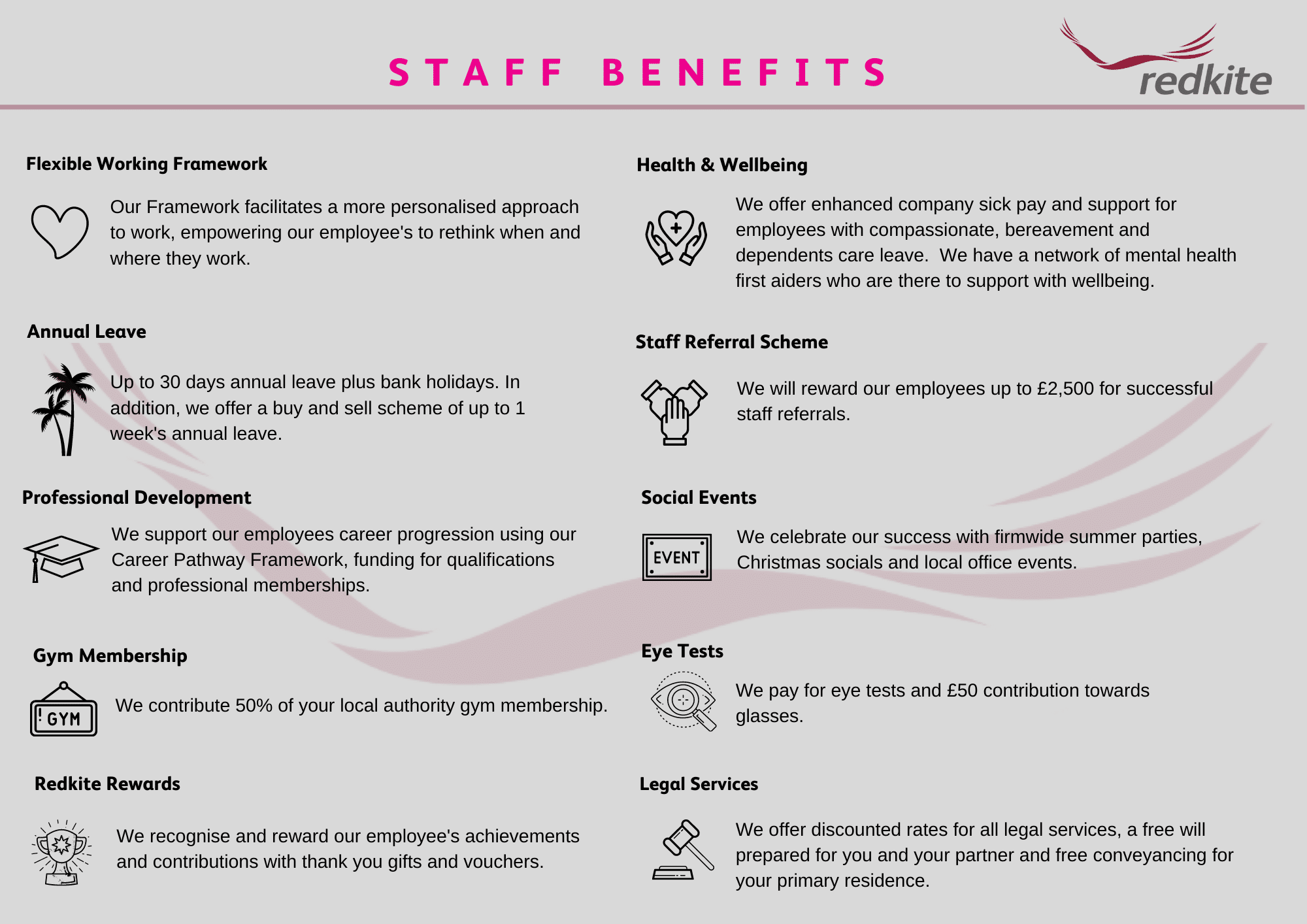 If you would like to join our firm please use the left hand menu to view our current legal and non-legal career opportunities.
If you are unable to find a vacancy that suits you please feel free to send in a speculative application form with a covering letter to careers@redkitelaw.co.uk.