Alexia Thomas
I joined Redkite in 2018 having previously worked in a top tier disputes team in Cardiff for 9 years.
I am an experienced litigator with a particular specialism in will, trust and estate disputes. I have dealt with all sorts of disputes in my career but some of my most recent estate disputes include:
Acting for a defendant in a claim brought under the Inheritance (Provision for Family and Dependants) Act 1975 which resulted in a very favourable settlement for my client. I have also acted for a claimant in a similar claim involving a multi-million pound estate.
Acting for claimants in a number of proprietary estoppel claims against substantial estates relating to farmland.
Acting for multiple defendants in a claim brought by a disgruntled family member who sought to challenge the validity of a will on the ground that the deceased lacked capacity. I was able to settle the claim early on in the proceedings on very favourable terms for my clients.
Successfully removing a professional executor of an estate (a well known national law firm) by issuing a claim in the High Court, London. I acted for the main beneficiaries of the estate who were unhappy with the lack of progress of the estate administration.
My commercial background makes me a pretty ruthless opponent, but I also have a very compassionate side. Most of my clients first come to me at a time when they feel vulnerable and upset with something happening in their personal life. Helping my clients resolve their family disputes is the most satisfying part of my job and it is why I love what I do.
Whilst I live in West Wales, I act for clients both locally and nationally.
In my spare time I like to run and spend time with my young family.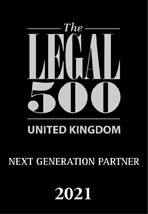 Alexia Thomas provided a personal and professional service at a very difficult time. Her empathy and understanding allied to her obvious knowledge of a very difficult area of law gave me confidence that the issues I was facing in having to deal with the estate of a loved one would be dealt with in the best possible manner. I would not hesitate in recommending her services..
We have mainly dealt with Alexia, and found her to be very professional and efficient, very clear in communication, and very good at calming a troubled situation. She is a genuine delight to work with, I'm so grateful that we found her